Imagine a bridge between two riverbanks, covered with a crowd of musicians, choreographers and painters, artists who work with light, with sound, with fog, audiences and listeners and curators, all motivated by the ambivalence of the forms and "reciprocity". Marking the 40th anniversary of the Centre Pompidou and IRCAM, ManiFeste-2017 explores the dream of synesthesia, or, more precisely, the musician's gaze that—from Scriabine to the young composers of today—is mobilized via a visual experience.
IRCAM CELEBRATES ITS 40TH BIRTHDAY!
See info about the festival and the programm :https://manifeste.ircam.fr/
Download the programm here
Two INTERFACES projects will be presented during this Manifeste: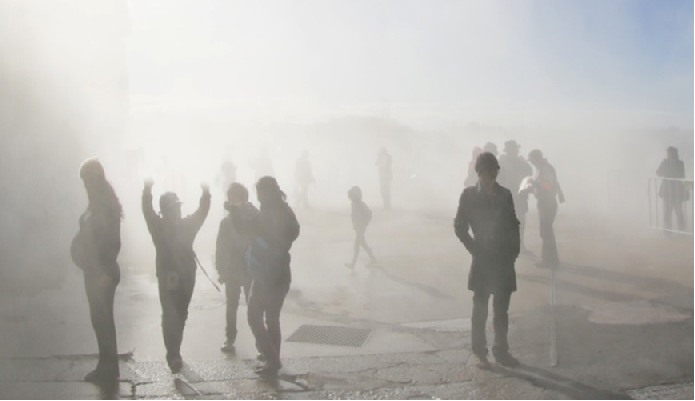 The festival will open with the PREMIERE of the "Piazza" on 2/6/2017 ( 22:30) at Place George Pompidou.
In celebration of the 40th anniversary of the Centre Pompidou and IRCAM, the Japanese artist and fog sculptor Fujiko Nakaya will make the Centre Pompidou disappear.Stephen O'Malley and Peter Rehberg transform the Piazza into an electronic stage. The three artists have worked together on several occasions, particularly on productions by Gisèle Vienne presented in the Centre Pompidou's Grande salle. Their outdoor work in situ is an electronic scenography that, beginning with the timbre of alpenhorns, spreads out into the public space. The admission is FREE.
https://manifeste.ircam.fr/agenda/piazza/detail/
NIAGARA REVERB#07150 Premiere
Fujiko Nakaya Fog Sculptures
KTL (Stephen O'Malley et Peter Rehberg), composition, arrangement, and performance
Alponom ensemble accompanying the KTL
Manuel Poletti Sound spatialization
10/6/2017 SOUND & VISION (A LIQUID ROOM)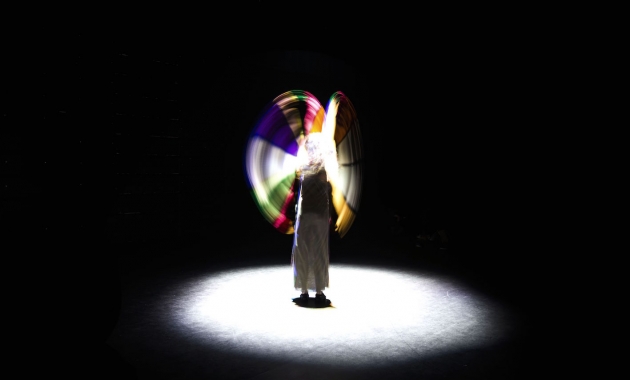 The perfomance "Sound & Vision travels for the last time for this year in Paris during the Manifeste 2017.
Ictus' Liquid Room reimagines the traditional concert format. Several stages, unexpected transitions, amplification and meticulous lighting, unusual durations: a miniature festival. Audience members are free to walk around the sound space, to choose their listening angle, to punctuate their comings and goings between "attentive" and "immersive" listening. A match is struck in the night, amplified a thousand times.Dusk-like lighting transforms the way we hear a recent work from the repertoire, Sciarrino, Pesson, or Bedrossian.An installation by Alvin Lucier—a guitar string the size of a marine rope—overlaps James Tenney's exploration of the tamtam's resonances.Ula Sickle and Yann Leguay work with a strobe light and sound. The prices for the tickets start from 10/25/30€.
https://manifeste.ircam.fr/agenda/sound-vision-a-liquid-room/detail/
Sound&Vision bridges the intersections between music and visual performance. This is undoubtedly the major concert of a new generation for whom the musical—the musical gesture—circulates between eye and ear.
Ula Sickle Choreography and Dance
Yann Leguay Sound/Light System
Ictus : Dirk Descheemaeker Clarinet, Gerrit Nulens Percussion, Joeroen Robbrecht Viola, Violin, Tom Pauwels Electric Guitar, Florentin Ginot Bass, Jean-Luc Plouvier Piano, Alexandre Fostier Sound, Wilfried Van Dyck Production, Caspar Langhoff Lighting
ALVIN LUCIER MUSIC ON A LONG THIN WIRE, system with cable, 1977
JAMES TENNEY HAVING NEVER WRITTEN A NOTE FOR PERCUSSION, for amplified tamtam, 1971
ALVIN LUCIER SILVER STREET CAR FOR THE ORCHESTRA, for triangle, 1988
JULIANA HODKINSON LIGHTNESS for three musicians with matches, sandpaper, sand, and water, 2015
ULA SICKLE & YANN LEGUAY LIGHT SOLOS for dancer and light installation, 2011-2013
FRANCK BEDROSSIAN DIGITAL, for bass, percussion, and electronics, 2003
MICHAEL SCHMID KRACHAL, installation with water and submarine microphones, 2016
PETER ABLINGER VOICES AND PIANO (excerpts), for piano and recorded voice, 1988
ALEXANDER SCHUBERTSENSATE FOCUS, for ensemble, lights, and electronics, 2014
GÉRARD PESSONLA LUMIÈRE N'A PAS DE BRAS POUR NOUS PORTER, for amplified piano, 2014
KAJ DUNCAN DAVID 4C0ST1CTR1G3R, for rhythm box and light, 2015
GORDON MONAHAN SPEAKER SWINGING, for 4 musicians and loudspeakers, 1982
SALVATORE SCIARRINO TRE NOTTURNE BRILLANTE, for viola, 1972
1 June- 1 July 2017
Ircam
Centre Pompidou Paris, France